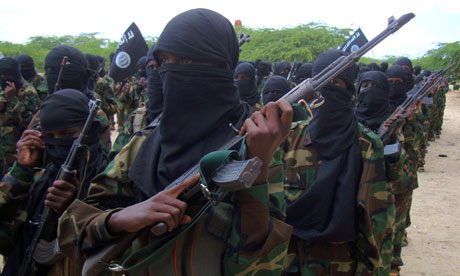 Al-Shabaab Islamist rebels train near Mogadishu. Photo: Feisal Omar/Reuters
I'm quoted in Clar Ni Chonghaile's
Guardian article
on Somalia, Kenya and Uganda. Here are the quotes:
David Shinn, a former US ambassador to Ethiopia, says Kenya must pull out of Somalia soon, whether or not it takes Kismayo.

"The longer it remains, the greater al-Shabaab's argument will resonate with Somalis that a foreign force has invaded," he said.
And:
Whatever Kenya's motives, Shinn doubts the incursion can create a durable solution for Somalia, where the weak Transitional Federal Government has failed to extend its control beyond Mogadishu.

"Al-Shabaab will eventually fail because of its own mistakes such as the mishandling of the famine. Kenya, Ethiopia, Djibouti, other regional players and the international community can make a difference on the margins if they choose smart policies. Ultimately, Somalis are going to determine the outcome."