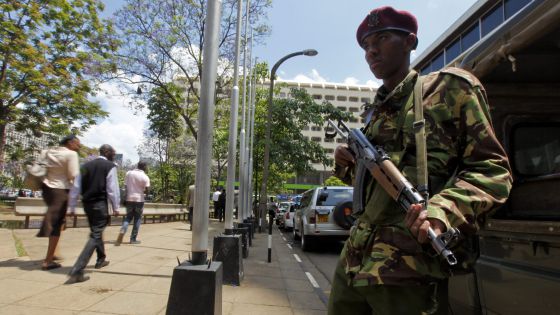 Source: El Pais. Caption: "Un soldado monta guardia en una céntrica calle de Nairobi./EFE"
I was quoted in an article dealing with Somalia's proposed Jubaland/Azania in the Spanish paper El Pais. You can read the Spanish-language piece
here
.
Here are the English responses I provided to the reporter on Nov. 4:
I believe it is a goal of Kenya to remove al-Shabaab from an area roughly coinciding with Jubaland and then, in the ideal world, turn it over to friendly Somali forces. The question is whether this is realistic. I believe the Kenyans can force al-Shabaab out of this region, but Kenya has neither the will nor the resources to hold the territory indefinitely. In fact, if Kenya stays long in Somalia it will lead to a new series of problems for the anti-Shabaab forces. I also question whether there are sufficient friendly Somali forces to hold Jubaland once Kenya has forced out al-Shabaab, but hope my doubts are wrong.

The U.S. would certainly support the defeat of al-Shabaab in this region and is probably giving intelligence and possibly other support to Kenya for this purpose. The U.S. would not recognize an independent Azania just as it does not recognize an independent Puntland and Somaliland. On the the other hand, if anti-Shabaab Somalis obtain wide support in Azania the U.S. would probably provide the same kind of support that it does for Somaliland and Puntland. I am not in a position to comment on the position of other Western countries.

I don't know enough about the personalities of the Somalis who claim to have a following in Azania. My fear is that no Somali is widely accepted throughout the Jubaland region. This will complicate all efforts to create a viable region free of al-Shabaab.